BBQ Restorations is
Factory Trained and Authorized To Perform
BBQ Repairs, BBQ Restorations, BBQ Cleanings and Grill Maintenance Services.
At Orange County BBQ Restorations We Repair & Restore:
Outdoor Kitchen

Dynasty

and more
We service and supply parts for almost every grill on the market. Common repairs include:
Manual/Automatic Ignition components

Igniters adjustment and/or replacement

Burner restoration or replacement,

Heat shield repair/replace

Cooking grate refurbishment

Valve replacement

Regulator replacement

and gas fitting repair
A BBQ repair service, and the right grill parts, can keep your grill operating in optimal condition for countless years to come.
3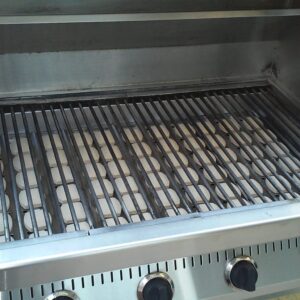 BBQ Repairs
BBQ Restorations performs a multitude of BBQ Repairs; Including Manual/Automatic Ignition components, and Igniter adjustments and/or replacement, Burner Restoration, or Replacement, Heat shield Repair / Replacement, Cooking Grate Refurbishment, Valve Replacement, Regulator Replacement, Gas Fitting Repair, Natural Gas to LP Conversions, LP to Natural Gas Conversions, and more…
Barbecue Parts
A BBQ Repair service, and the right grill parts, can keep your grill operating in optimal condition for countless years to come. Make BBQ Restorations your source for Barbecue repairs, Cleaning, Restorations, Parts and Replacement Barbecue Grills.
We're sure your BBQ grill  has delivered a lot of great taste to you over the years, and has literally burned itself out for your pleasure. So, is it fair to even consider replacing it and to throw it out just because it's a little  rusted, the parts are worn out and it's stained?
Experts say a good gas grill should last 8 to 10 years, depending on how often it's used and how it's taken care of. Usually the little parts of a gas grill go first, like the regulator and the starter, but most grill owners think of tossing the old boy out when they just like the looks of it anymore. Is that fair? Is it cost efficient? Why not restore it, for less than it would cost you to buy a new grill?
Every year thousands of Barbecue grills are thrown out, because they need some BBQ repairs, that could have been fixed by one our expertly trained technicians. For any busy family a BBQ has become a permanent staple in the preparation and cooking of meals. An appliance this important can't be taken for granted.
We understand that this appliance will have to be ready when you are, and we are ready to come in and fire it back up at the first sign of trouble. Knowing how important the BBQ is to you, you may find yourself tempted to make the fixing of it a do it yourself job. Please, think twice before trying to fix a BBQ yourself. These appliances can be very dangerous and should be serviced and repaired by a professional highly trained technician.
Did we mention that we do tune ups and cleaning as well? Check out our BBQ Cleaning page.
---
Get your annual BBQ Repair, Cleaning, or Restoration done before Thanksgiving and receive 20% off.