BBQ Restorations specializes in Gas Grill BBQ Tune Ups, BBQ Cleaning and
BBQ Cleaning Services offered in Orange County:

BBQ TUNE-UP: $75.99
BBQ Restorations Gas Grill BBQ Tune-up involves removing the various internal components and parts located inside the grill. A thorough inspection of the BBQ, and all parts is completed. Including a 20 Point safety inspection. Checking for a multitude of indicators.To assure safe and efficient grill operation. Such tell tale signs indicating possible unsafe conditions would include excessive wear, damage from corrosion, and rust. Which we will look for during inspection of the following parts and components. Cooking grates, heat shields, heat trays, ceramic bricquets, ceramic rods, flavorizer bars, burners, ignitors,and ignition modules. The valves are inspected for excess ware and any leaks. The air shutter and valve orifices are adjusted for optimal performance. We'll also leak test all gas connections and lines as well as check for correct flow rate through the regulator. Any minor repairs and adjustments that will enable safe operation of your BBQ grill will be included. BBQ Restorations BBQ tune-up includes a light clean up of the grills interior and exterior. However the Tune Up is not intended to replace an annual cleaning, typically taken care of with our Pro cleaning located below.
BBQ PRO CLEANING: $149.00
BBQ Restorations Pro Cleaning includes all the steps involved in the tune-up. Including a thorough inspection, and the safety inspection. To assure safe and efficient grill operation.The interior and exterior of the grill is de-greased, washed, rinsed sanitized and polished to perfection. With one of the following tools in our arsenal. This includes High Pressure Washing, Steam cleaning, Hot Water cleaning coupled with caustic soda Environmentally Safe green cleaner, and various other techniques we have developed over the years. Resulting in some unbelievable outcomes.The Pro cleaning includes; cooking grates washed and thoroughly cleaned, heat shields thoroughly cleaned, burners cleaned inside and out. to optimize performance and even heating. The drip pan is removed and cleaned, valves checked/adjusted and lubricated accordingly. Major grease and built up grime is removed from the entire grill including the various parts of the grill. The exterior is then polished. The entire process generally takes about three to four hours. However there is no time constraint, and we don't leave, until the job is finished correctly.
BBQ RESTORATION CLEANING: $299.00
The BBQ Restorations, "Restoration Cleaning" is an intense Deep Cleaning generally combined with a complete Restoration or Rebuild of the BBQ Grill. This BBQ cleaning will bring back the BBQ to like new condition. All the same tactics are used as the Pro BBQ Cleaning. However the Restoration Cleaning is a bit more involved and labor intensive. Usually taking about twice as long to complete. Resulting in some unbelievable outcomes. The Restoration cleaning includes all necessary fixes, repairs and adjustments to the housing of the BBQ and major components to achieve the like new again performance and appearance.
Typically a BBQ Restorations project entails reconditioning the burners and or replacing them, reconditioning of heat shields and or replace, all minor and major adjustments of vales, including replacement. Manual and automatic ignition system replacement with a new ignition system, and new ignitors. The drip pan is removed cleaned and/or repaired, cooking grates cleaned or replaced and the internal housing of the grill is cleaned and polished. Completion of the Restoration Cleaning generally takes a minimum of 4-6 hours from start to finish. The Restoration Cleaning is essentially a complete rebuild minus the new parts. Many of or customers who were otherwise in the market for a new grill. Are enjoying there existing grill at a fraction of the cost of new.
Call us today for a free quote or to set up a complimentary inspection.
Direct 949-301-6483
Email us [email protected]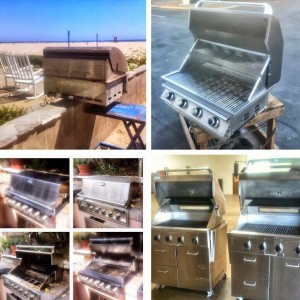 BBQ Restorations- Offers Various Options for Cleaning and Restoring your BBQ Grill!