Local BBQ Experts
In Orange County BBQ Restorations is factory trained and authorized to work on Outdoor Kitchen, Dynasty, Viking, Dynamic Cooking Systems DCS, Lynx, Turbo, and more types of Barbecues. Chances are if you have a Barbecue we've probably rebuilt, cleaned or repaired the exact same make and model within the last year. BBQ Restorations is the number one choice for home and commercial BBQ Restorations, Barbecue Repairs, and Barbecue Cleaning Services in Orange County C.A. Call us today and have your grill looking and performing like new again by tonight. We offer same day service, superior results, green cleaning equipment and practice's, a full line of replacement parts and more. All work is warrantied, and backed with 100% satisfaction guarantee. 
BBQ Restoration specializes in virtually every grill on the market, and in a lot of cases we have parts in stock that will work if any of your existing components need replacement. Trust only the best when it comes to your Outdoor Kitchen, Gas grill, fire-pit and outdoor heater systems. BBQ Restorations has your solution and can deliver the results you expect. So that you don't have to worry about a single thing.
Call us today and have one of our experts come out for a free estimate to see if we can meet your needs 949-301-6483. 
Orange County's Grill Authority
BBQ Restorations works very hard to be the number one company you choose for all present and future BBQ repairs, BBQ cleanings, Barbecue Grill Cleanings, tune-ups, replacement parts, new BBQ Sales and installation needs. Without hesitation, we work to be the company you choose and recommend, to all your friends and family.
We offer no cost estimates on BBQ repairs, Barbecue Cleanings, and all BBQ related services. If you've already received a quote give us a call we'd love to compete for your business:
All Major Brands
Same Day Service
Your satisfaction is our highest priority
All work is done on your premises, reducing repair time and disruption
Weekend, night time, & holiday service available!
24/7 Emergency Service, Holidays included
Visa, MasterCard, American Express, and Discover gladly accepted.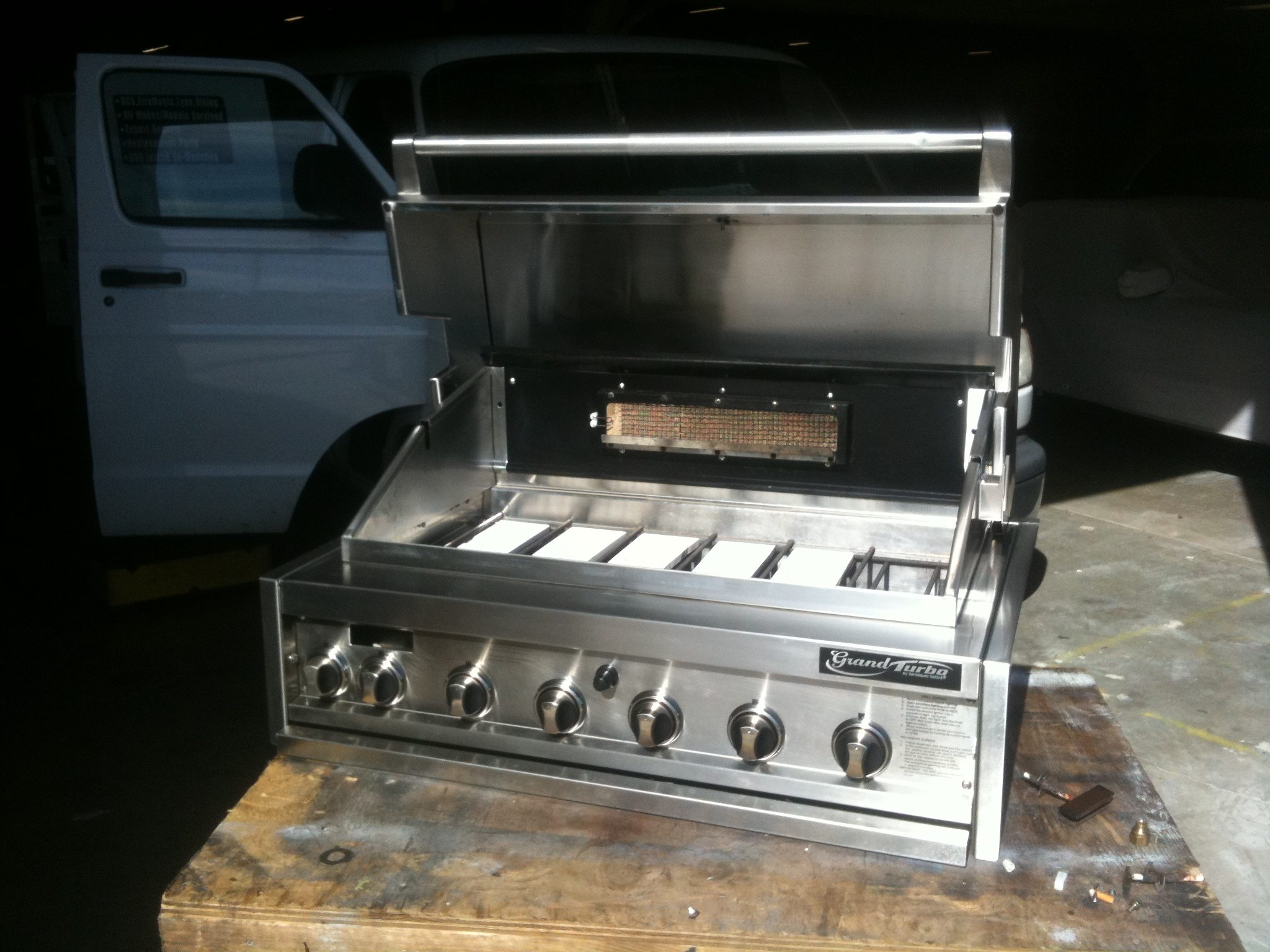 Our services
BBQ Restoration
There's noting like a warm evening with friends gathered around and the grill master creating succulent dishes for everyone to enjoy. Unfortunately that can't happen if your BBQ grill is dirty, rusted, or broken. BBQ Restorations can safely and thoroughly clean, repair restore, maintain, sell and install all quality manufactures of barbecues including; Viking, Lynx, DCS, Fire Magic, Dacor and more. Removing years' worth of baked-on grime and killing the germs that can make your family and friends sick. We can also take that old BBQ grill and make it work like it just came out of the box.
BBQ Repair
Whether it's a missing knob on your gas grill, a worn-out cooking surface, a burner that isn't firing, a new handle for the hood or a new spit for the rotisserie BBQ Restorations can repair and refurbish your BBQ grill so it works like new. We work fast, many repairs can be done in a day or less. We have a full line of BBQ replacement parts for virtually any type or brand of grill, and if we don't have what you need in stock, we'll find it. Our service people are knowledgeable and experienced, and our work comes with a warranty and a 100% money back guarantee.
BBQ Cleaning
Consider Orange County's BBQ Restorations for all your BBQ Cleaning Services, you clean your kitchen every week. You shampoo your carpets twice a year. You wash your windows spring and fall. But when was the last time you thoroughly cleaned your grill or other outdoor cooking unit? Many people believe that they can just "burn off" spills, stuck-on food, dirt, and germs. You can't. Your grill needs the kind of deep professional cleaning service BBQ Restorations offers. Not only can we clean your grill with the safest green products, we can add years to the life of any grill by keeping the cooking surface spotless and the working parts unclogged by dirt and grease. Our service pays for itself by extending the life of your grill
.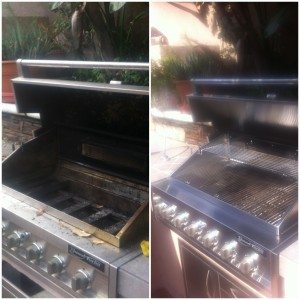 RESTORATION CLEANING $300
BBQ Restorations Restoration Cleaning is designed for those who have not had there BBQ grill cleaned or maintained in the last few years by a professional. If your grill looks and performs like it's worn out. Chances are our restoration coupled with the appropriate replacement parts if needed will have your grill performing better and looking as good as the day you bought it.
PRO CLEANING $179
BBQ Restorations Pro Cleaning was created and geared for the grill enthusiasts or local family that use there barbecue grill on a regular basis and also have it maintained on an annual basis. We consider this to fall under the maintenance cleaning category
BARBECUE TUNE UP $79
Have us tune your grill to perfection. BBQ Restorations Tune Up service is great for those grill owners who haven't been getting the type of performance out of there grill that they would like. Perhaps the ignitors no longer light the grill, or maybe the grill stopped working altogether? Our Tune Up Service will get you back in action quick. Call us today.
NEW GRILL SALES & INSTALLATION
BBQ Restorations sells and installs virtually every major manufacture of BBQ Grills on the market. Call us today to get pricing 949-301-6483
Local Brands We Recently Worked With
BBQ Restorations has worked with many great companies and the people that support there operations.


Services We're Performing:
BBQ Restoration
New Grill Sales
BBQ Repair
BBQ Cleaning
Recent Projects
Our Testimonials:
Solid and fantastic job. Our built in grill has lost its shine. It was already a mess. However, the gentlemen from BBQ restorations have made it look like it is brand new. It works even better than before. It was worth waiting for them to come. You see, it seemed like they were fully booked with appointments when I called them for I had to wait for 2 days before they could service my grill. But it was no problem for me. In fact, I was glad I have waited for them because they were professionals and did a fantastic job. I would highly recommend them.



Maria Matilda
Customer
Wes & Sheldon are working a miracle right now on my outdoor kitchen grill(2) and Burners(2). I happened into Wes and asked about a shirt he was wearing for his company… He gave me his card and I called this morning. He came by same day and looked at my 10-12 year old Fire magic and a probably 30 year old Charm-glo. They were both disasters, with rotting, non working parts and just a mess. He told me he would get it all working, and I mean rerunning gas lines, cutting holes to place new electric starters, even welding new galvanized steel plate into the rotted bottom of the unit itself…. That of course is not what we thought would be required when I hired him, I just thought a killer before and after cleaning. He not only did all this he honored the price that he had quoted, which was very fair to begin with. too bad I am selling the house, I could definitely enjoy using the new and improved equipment, I guess the next owner will be in grilling heaven! I could not recommend Wes and Sheldon of BBQ Restorations more highly… give them a call and I am sure your steaks, ribs chicken and veggies will be fired perfectly!

John N
Customer
These guys are amazing!! I am so glad with BBQ Restorations for their great services. They spent 4 hours to clean my TWO grills with a very cheap rate compare than others. 100% completely satisfied and thanks for such great customer service. I will definitely use them again.



Tamiko
Customer
SCHEDULE YOUR FREE ESTIMATE TODAY.
All Rights Reserved @ BBQ Restorations.com BBQ Restorations Specializing in Barbecue Cleaning Services, Barbecue Repair Services, Barbecue Restorations & Complete Rebuilds, Barbecue Parts, Outdoor Heaters, Fire-Pit repairs and more.. Open Mon-Sun 9am-9pm 111 Pacifica Irvine, C.A 92618 949-301-6483