Today BBQ Restorations had the opportunity to demonstrate our skills in the form of a Fire Magic Barbecue Restoration in Rancho Santa Margarita.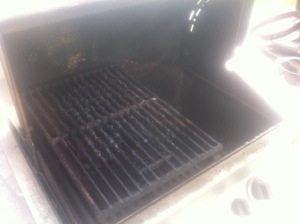 BBQ Restorations as you can imagine has perfected the art of refurbishing , repairing and restoring high end barbecues, such as this Fire Magic BBQ pictured. We will start off by doing our BBQ restoration cleaning  today (you can find additional information and details if you click the underlined text). Our BBQ Restoration Cleaning is one step up from our Pro Cleaning a maintenance cleaning designed for those that clean there barbecues on an annual basis.. The BBQ Restoration cleaning is an intense deep cleaning intended to restore the barbecue grill back to it's original condition, prior to the years of abuse and ware and tear that most grill owners dish out on a regular basis. Years of use and very little maintenance of the internal grill & major components will definitely result in corrosion and rust if left untreated. Fortunately, were often able to restore almost all of the components to there former glory.
Unfortunately this Fire Magic barbecue's maintenance and cleaning regimen was long overdue.
So we will be providing some metal fabrication,to fix the rusted out and corroded portions of the barbecue. We will also be replacing the heat trays and cooking grates. Fire Magic barbecue burners are very resilient in my experience and rarely need replacing So in most cases were able to restore and get these burners working just as good as the day the grill was installed. It was also determined that the existing ignition system and igniters could be replaced to restore efficiency and reliability, so we will be doing that as well today.
Our client is giving this as a gift for his ex wife for Christmas. We're not finished yet however I thought I'd provide some updates on this barbecue grill restoration, cleaning and repair project for BBQ Restorations on a 7 year old Fire magic barbecue in Ranch Santa Margarita. Give BBQ Restorations a call for all your barbecue grill cleaning and repair needs today 949-436-8308 or 900-500-1331